!! Dare to Be Different !!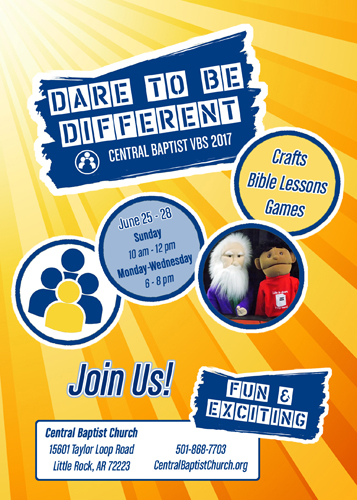 VBS: Dare to be Different
Ages: 6th grade and under
Dates & Times:
June 25: Sunday – 10:00 am – 12:00 pm
June 26-28: Monday-Wednesday – 6:00 pm – 8:00 pm
This year we will learn about Daniel and his companions as they lived for God in Babylon, where it was not easy to be faithful to the Lord. In Babylon they were tempted to sin, cast into a fiery furnace, commanded not to pray to God, and even thrown into a den of lions. However, they discovered that God was able to protect them.
Join us as we learn from Daniel and his faithful friends. There will be exciting lessons, interesting crafts, and fun games.
For more information:
Phone:  501-868-7703
Email: info@centralbaptistchurch.org