Bible Classes
Bible Classes are provided for children of all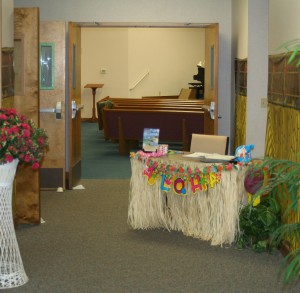 ages every Sunday at 10:00 am. Our lessons are directly from the Bible and are designed to build a strong base for our children to grow in the knowledge and love of our Lord and Savior, Jesus Christ. Our classes cover the entire Bible, so children receive a good understanding of God, His grace, and His plan of salvation through Jesus Christ. Each class has age-appropriate material to help the children better understand God's Word.
King's Kids
King's Kids Club meets Wednesday evenings at 7:00 pm. It is a time of Bible study, Bible verse memorization, fun, and fellowship for children. During this time our children are encouraged from God's Word and challenged to apply His Word to their lives.
Vacation Bible School
Vacation Bible School is a time of Bible learning, songs, crafts, and overall fun for one week during the summer.  This is an amazing time for the children to learn about God's Word. God-honoring adults prepare to make this outreach to children biblical, fun, and applicable.  Our goal is to reach children with the Gospel of Christ and to teach them how to apply biblical truths to their lives.